Regular price
Sale price
$69.00 USD
Unit price
per
Sale
Sold out
This is a custom item. Please allow 4-6 weeks to arrive so we can ensure your custom product is made to the best quality! Thank you for your patience!
This custom dad hat is the perfect gift
Customize your dad hat with a photo of your dog's face! Just upload a photo of your pet's face—dogs, cats, and other animals are all a-ok! Our team of artists will illustrate your pet's face by hand.
Custom-embroidered dad hats are loved by dog moms and dog dads that love their dogs
A custom dad hat with a picture of their dog on it can be a perfect gift for dog lovers because it allows them to show off their love for their pet in a unique and personalized way. Dad hats, which are baseball-style caps with a relaxed fit and low profile, have become a popular fashion accessory, and by adding a custom image of their dog, the recipient can create a one-of-a-kind item that is sure to be a hit. In addition, a hat with their dog's picture on it can be a fun conversation starter and a way for them to share their love for their pet with others.
Overall, a custom embroidered dad hat can be a thoughtful and practical gift for any dog lover.
Features

Fabric: 100% brushed cotton twill
Structure: Unstructured
Profile: Low
Panels: 6
Closure: Self-fabric slide closure
Care (we know you do!)

Wash in cold water with heavy-duty detergent run on a delicate cycle. Do not dry. Instead, wear the wet hat on your head until it drys naturally to retain the shape.

See our hat washing guide to learn more about caring for your headwear.
View full details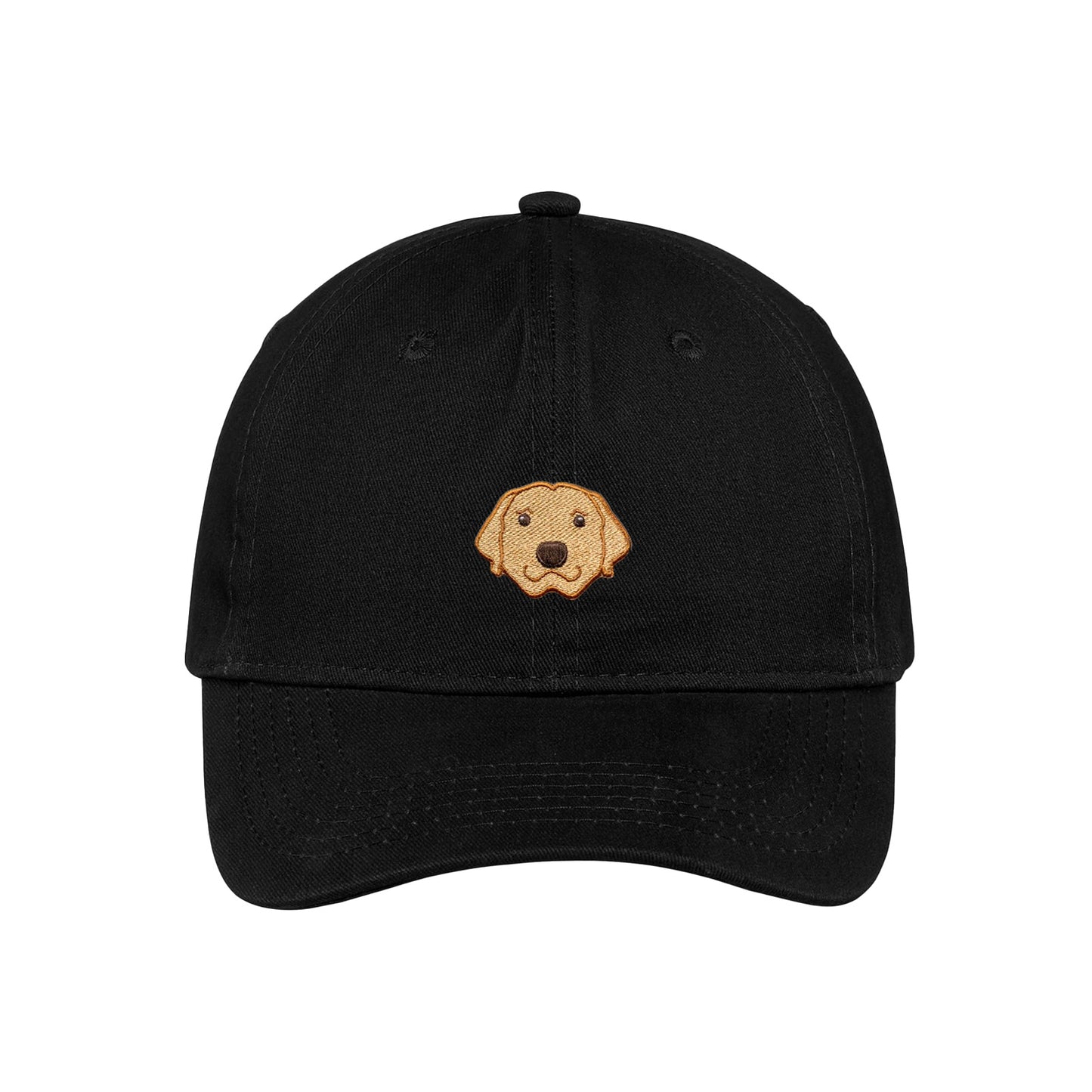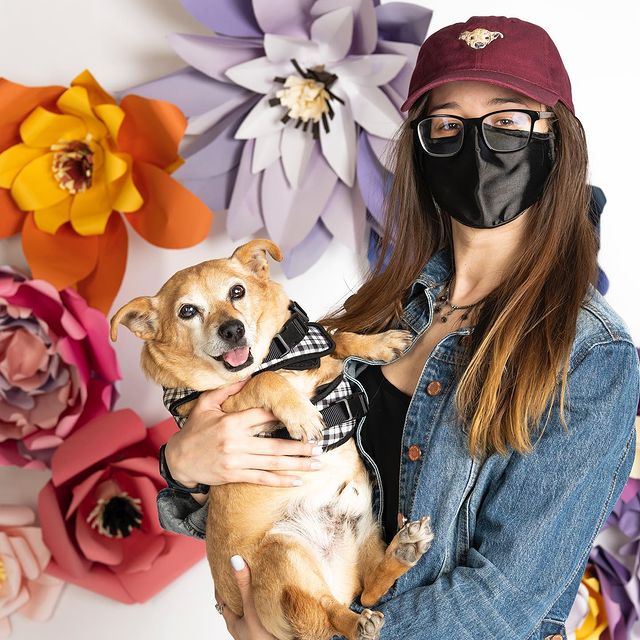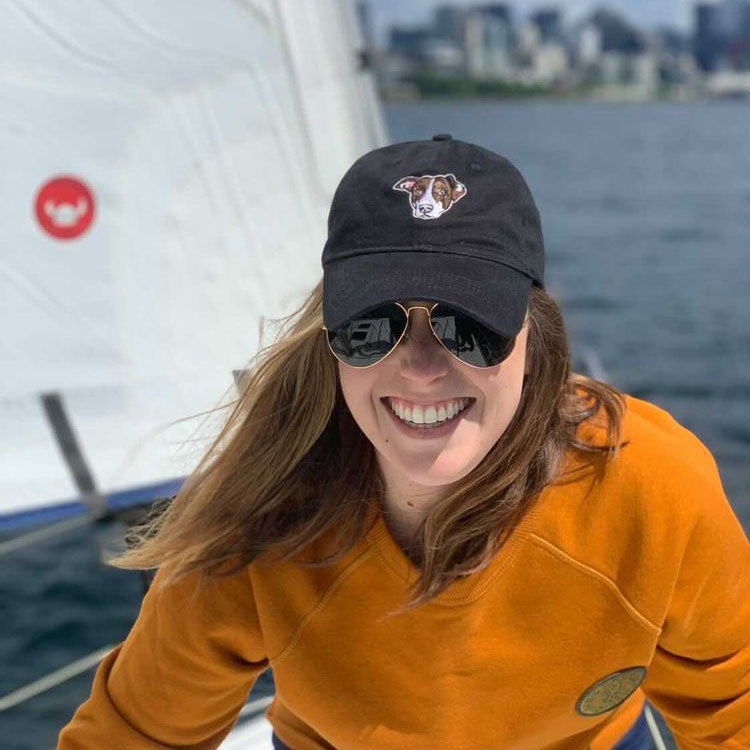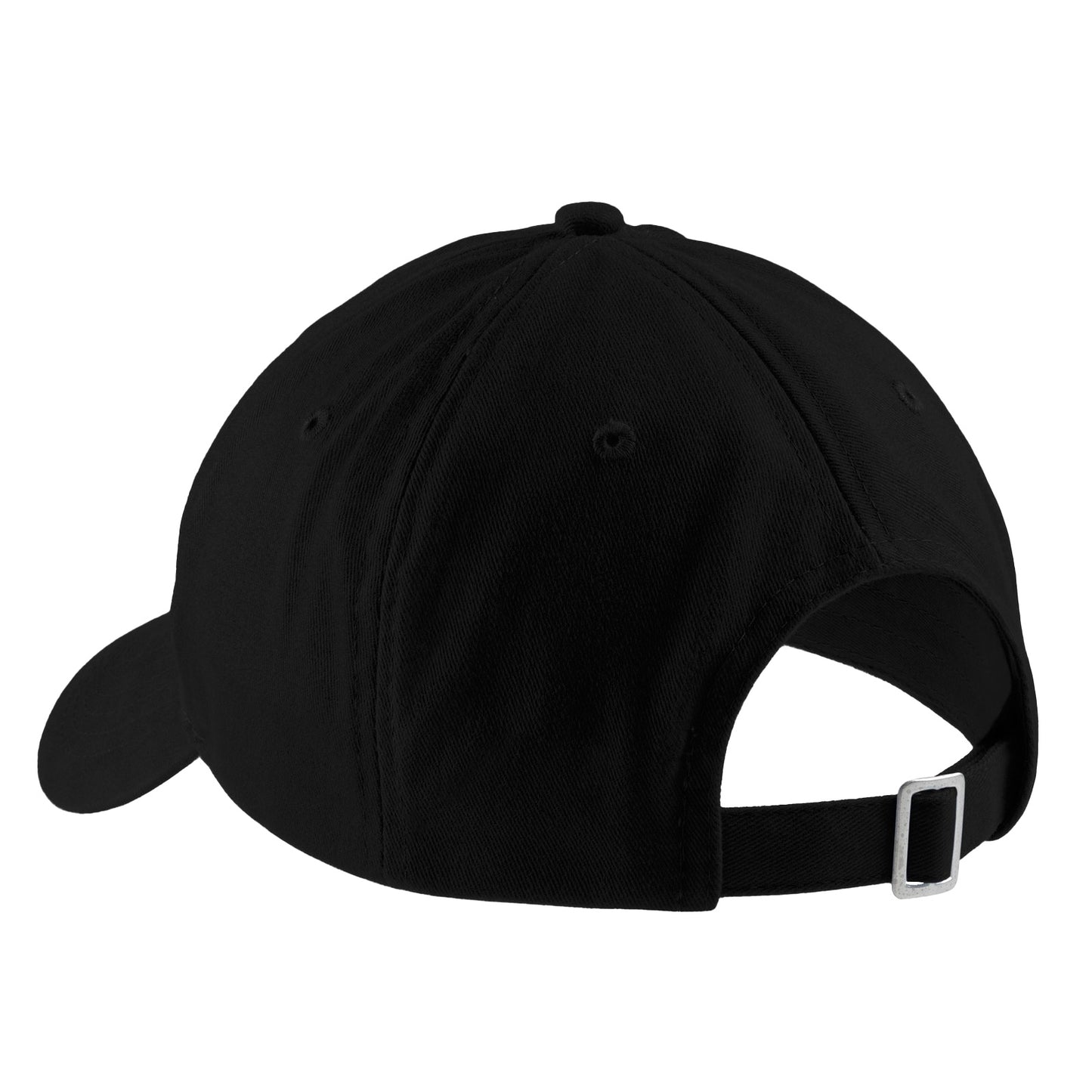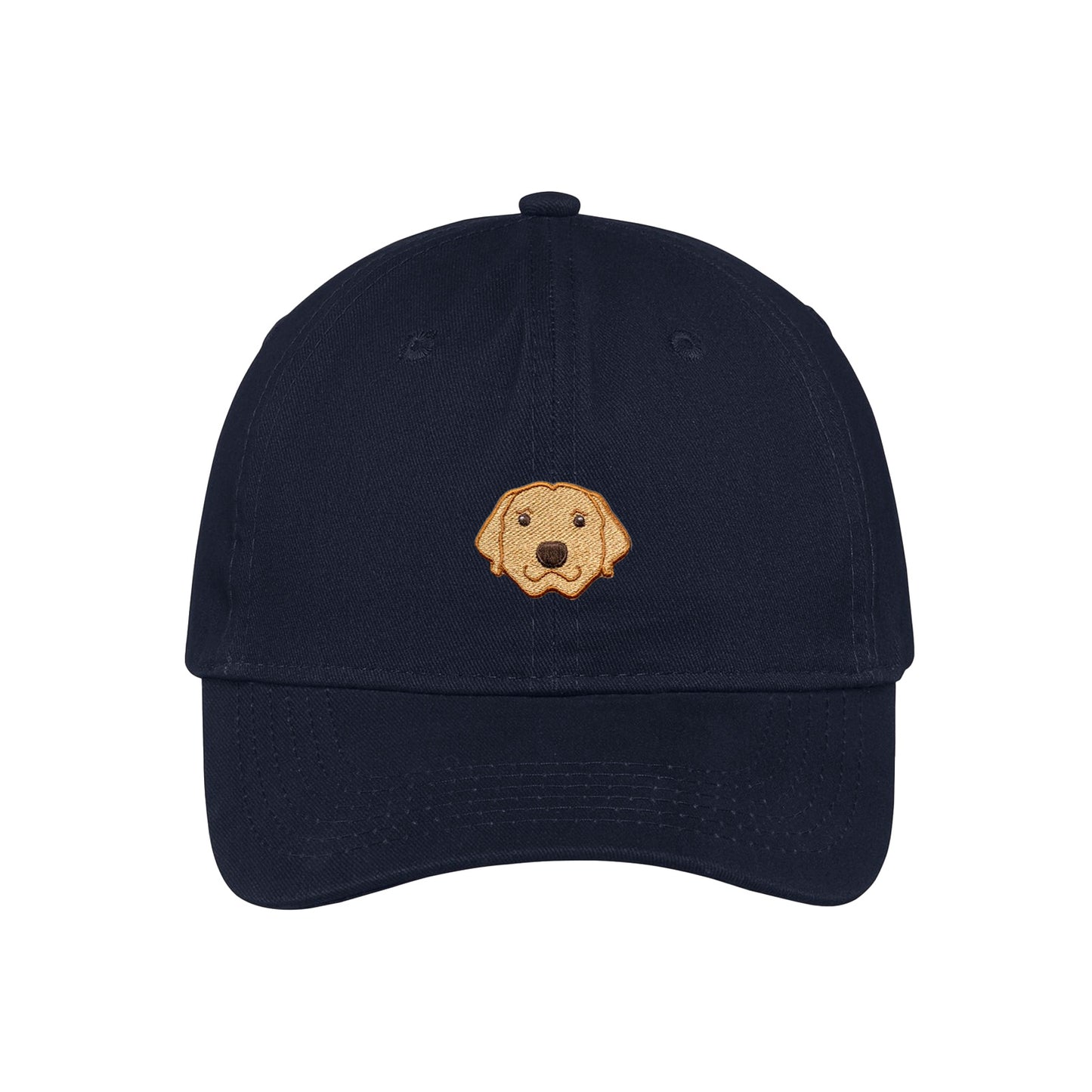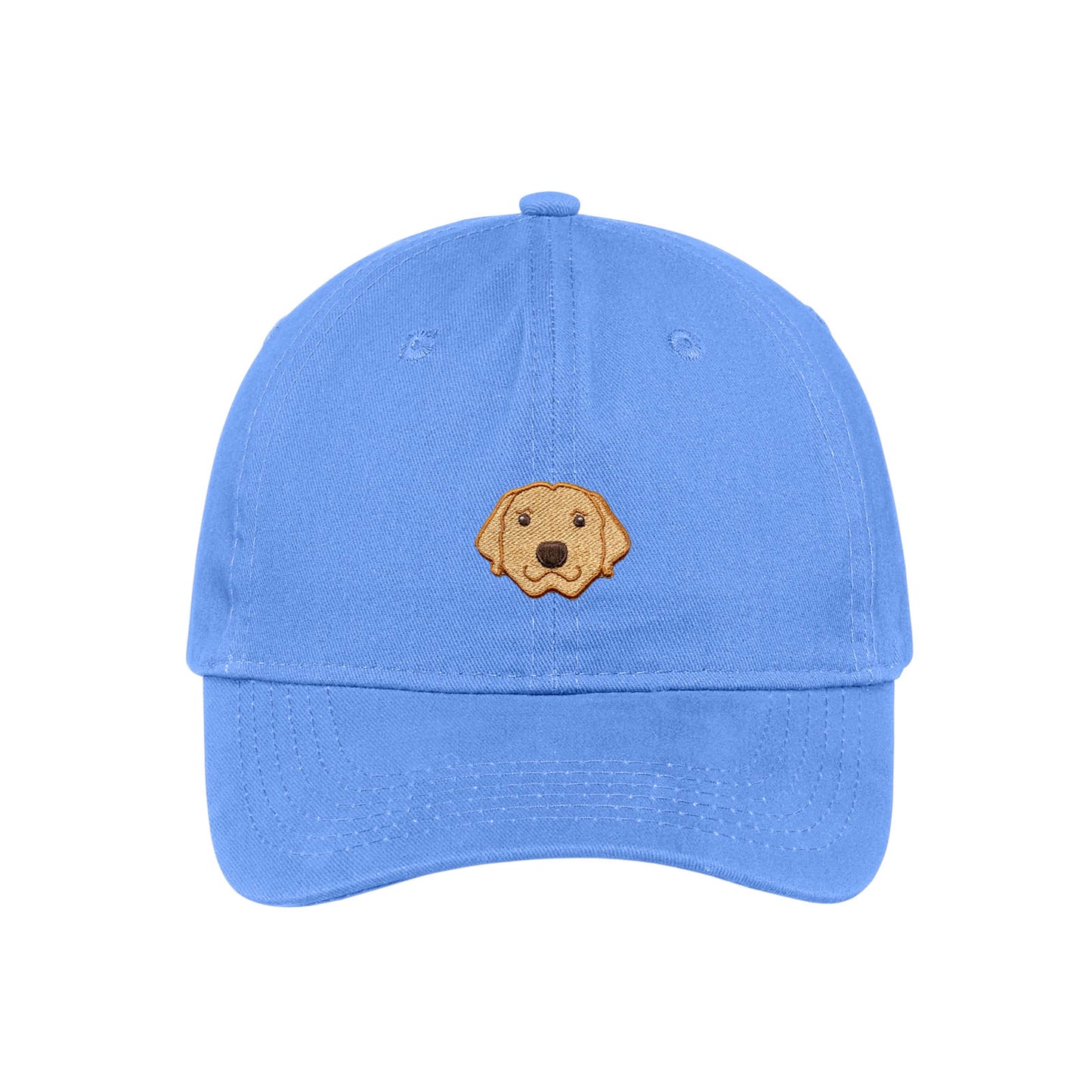 How a custom dog hat gets made
1. Upload Your Photo

Upload your favorite photo of your pup. Not a dog paw-rent? All pets welcome!

2. We Illustrate Your Pup

Our illustrators will convert your photo into an embroidery-friendly illustration.

3. Rock Your Hat

Enjoy your personalized headwear with your pup or give it as the perfect gift!
Very disappointed and no response to emails
I was surprised that the custom hat I ordered just randomly showed up on my doorstep after almost two months. I wish there was more communication during the whole process. I was very excited until I opened the box and saw how terrible the embroidery looked. It looks like during the embroidery process something happened and caused a misalignment. The eyes and nose are way off making one of the pets look deformed.
I have sent multiple emails and about a week has passed with no response at all. This was supposed to be a Christmas present and very upsetting that I can not give it as a gift.
I absolutely do not like giving negative reviews but have no choice.
This Company is Perpetrating a Fraud
I ordered my hats in September, waited three months for them to arrive, only for there to be two different images of my dog on the hat instead of just one like I'd ordered. I email and ask for a replacement, since this is clearly a quality control error, and they pledge to "make it right." Over the following week, I received no responses to my emails asking about when these replacement hats will ship, as I'd intended to give the originals as Christmas presents. I finally heard back this morning only to be told that there are delays in the process of making my replacement hats, and now I'll have to wait 3 more months for new hats to arrive.
I wouldn't wish my experience with this company on my worst enemy. There are sellers that do this same thing for a comparable price on Etsy, and I'm sure they're easier to deal with than the people who run this scheme of a company. Take your business elsewhere. I wish I had.
Poor Quality, Took Forever
After two months of waiting for my order, the hat arrived. Sadly, the hat itself is terribly cheap quality and the embroidery was poorly done. There are snags and loops in the finished product that make this unusable. Save yourself the time and heartache and just buy via Etsy.
HELLO?!
HORRIBLE! It's been over a month and I emailed twice asking where my order was...
I was told it wouldn't take more than a month and no one is answering my emails
If I don't hear back, I'll be reporting this to my credit card company
HELLO!!! STILL WAITING ON A RESPONSE
I ordered a hat back in NOVEMBER and still have not received a shipping confirmation. I emailed back and forth with the company in December saying my order was going to be shipped out in the next 7 business days. Now NO RESPONSE to any of my emails regarding the order. I just want a refund at this point. DO NOT ORDER form here. I never post reviews but this is just terrible. Maybe posting this will get some attention to my several emails.
Pathetic
Do NOT buy from this company. Have not received an order from November! And nobody has the decency to respond to a DM. Their Instagram account says responds immediately but the response is "can't chat right now" and you can't message their website because they are always not available. Scammers. Got schemed out of $70 and a Christmas gift that never showed up. This company should really be embarrassed at their behavior.
Beware insane delays on shipping
I ordered my hat in early Nov 2022. I received that hat on February 17th. There was zero notification that the item was ever shipped. Additionally, no time frame could ever be given to me. This was intended as a Christmas gift, delays are understandable but the lack of communication and extreme delay is unacceptable and I'll never be ordering from here again.
It's a scam.
Ordered in early November, with a 4-6 week approximate delivery date. Received email correspondence in December stating that my hat wouldn't arrive in time for Christmas. That's the last I've heard from them, it's now the end of January. I've sent multiple follow up emails that have received no response, at this point I would like a refund and a cancel of the order, but they won't respond to that either. It's an absolute scam, do not give them your money, they will take it without giving anything back. DO NOT ORDER FROM THIS COMPANY.
Terrible quality and service
To start, I ordered my hats early October and after multiple canned emails of passing the buck (ex. "Still in our design process", "In our embroidery process 5-7 more days", "We are perfecting your hat, it'll be more time" etc.) I finally received my hats after two full months with no prior explanation about that being the timeframe I'd be receiving my hat. They originally quoted much shorter. Never the less, we were finally excited to receive them, especially after the cost and the long wait. The quality is terrible. Thread ends are coming out of where my dog's eyes are supposed to be and there are marks on both brims that wont come off. There was no part of the process where they asked for my "okay" of the design and there seems to be no quality checks either. I reached out after receiving the hats, hoping they would at least redesign and send quality hats, but have been left with crickets. There was one initial email asking "hey let us know what we did wrong!" and once I did, I have heard nothing back. Despite emailing in an attempt to check in. I could excuse the bad quality of hats if the customer service wasn't worse than the hats themselves.
Don't waste your money and time. It's worth a lot more than these hats.
Long wait, No Response, damaged hat.
Had really high hopes of loving the product so I can share with the dog community but I will not be a returning customer. Ordered hat on 9/24 and did it get it till Dec 3. Emailed 3x with no response. When the hat finally arrived the stitching had imperfections, the hat itself has some white discoloration that I can't remove and husband complains the hat is itchy. I won't bother emailing Pablo since he never replied to my emails anyway. At least the hat finally arrived.