Customize yours.
Add a personal touch to each of these hats. A hat with your dog's face? Done. Want your dog's name on the hat? Too easy. These custom pet hats will be 100% uniquely yours.
Bundle up for beanie season!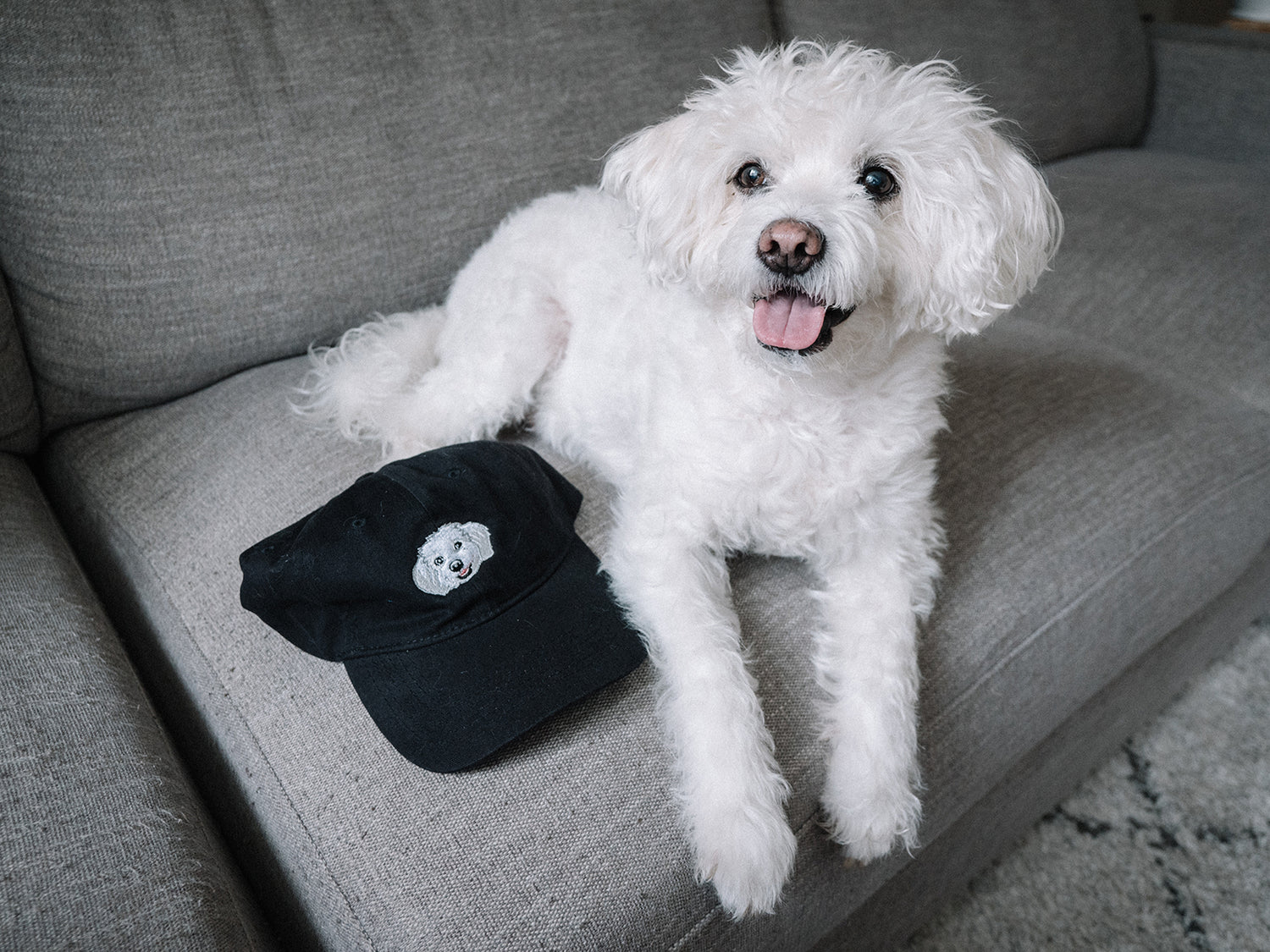 Custom Pet Hats are Pawfect for Pet Pawrents, Dog Moms, and Dog Dads
Obsessed about your doggo? Wish you could take them with you anywhere? These custom dad hats are the perfect personalized gift to treat yourself. Personally, I've also found these hats to be a great way to memorialize a family pet that has crossed the rainbow bridge as well.
Customize Your Headwear
How It Works
1. Upload Your Photo

Upload your favorite photo of your pup. Not a dog paw-rent? All pets welcome!

2. We Illustrate Your Pup

Our illustrators will convert your photo into an embroidery-friendly illustration.

3. Rock Your Hat

Enjoy your personalized dad hat with your pup or give it as the perfect gift!
Frequently Asked Questions
Why wear dad hats?

Dad hats are a fashion staple because they are timeless, versatile, gender-neutral, and easy to wear.

They come in a variety of colors and styles, making them perfect for any occasion. The adjustable strap makes them comfortable for all head sizes and the unstructured shape gives them an effortless look that can be dressed up or down depending on the occasion.

Dad hats also have a classic style that never goes out of fashion, so no matter what your age or style is you can always find one to fit your look.
Why are dad hats so popular?

Dad hats, also known as baseball caps, have become popular for a few reasons. First, they are seen as a more casual and relaxed alternative to traditional dress hats, which can be seen as stuffy and formal.

Second, they offer a comfortable and versatile way to protect one's head and face from the sun and other elements, and can be worn with a variety of different outfits.

Finally, they have become a popular fashion accessory, with many people wearing them to express their personal style or to show support for their favorite sports teams, brands, or causes.
How do I customize my dad hat?

Easy! Just have a photo of your pup ready to go, and upload it to our site when you're ready to add your item to your cart.

You can upload photos directly from your phone, or from your desktop or tablet. Most standard image formats are accepted, including .HEIC files.
Can I customize my hat with something other than a dog?

Our custom dad hats can be personalized with your dog, cat, rabbit, snake, hamster, gerbil, parrot, ferret, fish, guinea pig, horse, chicken, pig, plant, rock, and any other animal or pet that you love! We don't discriminate, and will illustrate your pet by hand before embroidering your hat, beanie, or other headwear.
Where are the hats made?

Your customized hat is made in the USA in Indiana, because we support American businesses, so when you shop with us, you support American businesses too!